In our daily life, we often see not only many teen girls wearing silver jewelry, but also many aged elderly wearing silver jewelry on their wrists.. It's said that all long-wearing silver jewelries are soul mates and empathetic partner with their owners, in that many such silver jewelries will not be as glossy as original appearance and darken when their owners are ill, furthermore, silver jewelry and silver ware have disinfectant and anti-inflammatory functions, not only for use by adults, but also we often buy silver jewelry for wearing by the new-born babies, a symbol of blessing for the kids.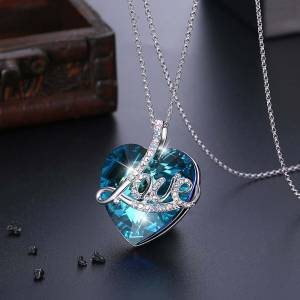 In general, the purity of silver is expressed by the measurement of Ag, and Ag925 (Sterling silver) is the measurement of purity for many silver jewelries at present time. The origin of Ag925 is mainly from launch of the first silver jewelries of this purity by Tiffany in 1851, and then it has become an industrial standard, and one of the standards of appraisal for sterling silver.
  All silver jewelries have mysterious tension. A silver jewelry alone is perhaps not eye-catching, but when it's put on human body, it immediately brings the wearer with unique temperament, in that some people show new and graceful appearance, other people look like to be more unrestrained and uninhibited, still others show mysterious and classical charisma, and it's interestingly important that many silver jewelries are bright but not showy, especially suitable for mixing with bright-colored clothes in spring, which will not over-shine the beautiful clothing, while being able to display unique personal charm of the wearer. A great many silver jewelries have very strong plasticity, which determines the changeful varieties of silver jewelries. Some silver jewelries display unique personality, but some wearers of silver jewelries show their elegance and quiet civility. A lot of silver jewelries can become a whole set, so popularity of silver jewelry is inevitable. Another attraction of silver jewelry is that silver can be inlaid with such materials as gemstone or imitation gemstone etc, and the jewelry so produced is not only in pretty look and various varieties, but also complement each other with the clothing.