Custom Jewelry
Red Nymph Provides jewelry customization service, as long as you tell us your idea, Red Nymph Team will give you a perfect design, using high-quality production technology to complete it in the shortest time, And we will freely ship the custom jewelry to you though UPS or DHL, Our quotation is definitely acceptable.
In addition to custom wedding rings, our customized jewelries can also be the following:
1) You can customize some special jewelries for your own style, or to better reflect your charm, or for some special occasions.
2) To commemorate something or someone or special day, you can customize a special jewelry
3) Customize special jewelries for your beloved, friends, classmates and colleagues
There are no restrictions on the materials and styles of custom-made jewelries. As long as you tell your idea to Red Nymph Team.
Steps to customize jewelry:
Designing jewelry according to your own ideas can be fun and meaningful. Through Red Nymph's jewelry customization service, you will be able to directly discuss with our jewelry designers, and your ideas will come true.
1. Discuss with Red Nymph jewelry designer
One of our jewelry designers will be with you soon. You just need to send your thoughts to us via email. If you need, we can even arrange a video conference.
2. Realize your concept
Your jewelry designer will first determine your needs and collect relevant materials related to your project. We will develop your ideas and communicate with you using photos, computer-generated renderings and various available design tools to help you visualize your masterpiece.
3. Create your jewelry
Once we have won your full trust, we will customize a piece of exquisite jewelry according to your requirements.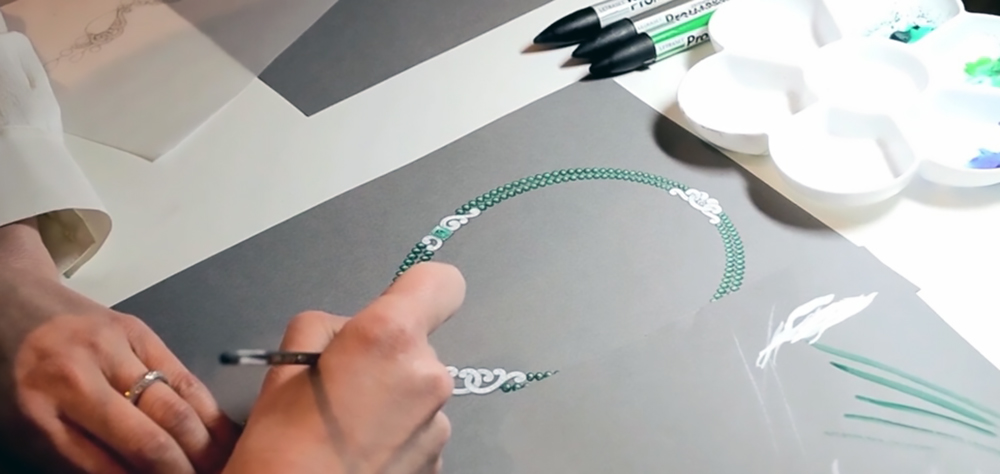 Jewelry customization types:
Maybe you want something original, but you are not sure where to start? Leave the design work to us. We will help you discover the design style you like. Our designers will provide you with a variety of design solutions and currently popular jewelry cases to help you discover your favorite design elements. Once our designers help you discover various possibilities, we will design original jewelry that matches your lifestyle and budget. The following are the types of custom jewelry designs we often provide to our customers
Create a new jewelry
If you are a creative type and have your own design, or have seen a style that can inspire you, we can help you turn your idea into a real jewelry. Our designers can work with you to solve the problems of logistics, feasibility, durability and affordability. This is a very rewarding process that can produce beautiful original jewelry of your own design.
Modify existing jewelry
Custom designs usually come from existing jewelry. Many times, customers will see jewelry they like, but they prefer gems of different shapes, sizes or colors. Usually, our customers want the existing jewelries to be thinner, longer, taller or prefer different textures or patterns. We are often faced with finding ways to make similar jewelry at a price that fits your budget. No problem! we are jewelry designers! We will serve you the way you want! We try to find the perfect design to meet your personal taste.
Copy jewelry
Many of our customers have the need to copy family heirloom. In some cases, another piece of jewelry will be made for another family member. Or because their favorite jewelry is lost or worn, and even needs to be replaced. Our designers can redesign or copy this jewelry for you, as long as copying this jewelry will not cause trademark or patent infringement.
Please Don't hesitate To Contact Us Today!