In comparison with traditional gold and platinum jewelry, mosaic gold jewelry not only intensifies colored gemstone, but also embodies refinement and exquisiteness of metal material, let alone lower price. In current jewelry market, mosaic gold necklaces in various bright colors and fashionable and elegant styles are favorite choice of many young females. Let's take a look at these styles.
1) Without pendant: Mosaic gold necklace without pendant is simple in design style, generally, female wearer wearing it looks small and refined.
2) With pendant: Mosaic gold necklace with pendant can be produced in many styles in terms of the material of pendant, to enable you to show changeable personal style.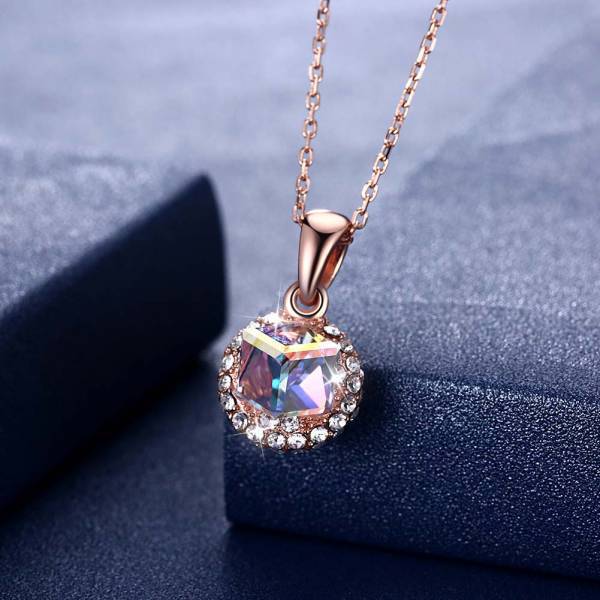 For different people, choosing a beautiful mosaic gold necklace of the latest style may highlight personal temperament and taste to the maximum extent. How to choose a mosaic gold necklace suitable for your style? Let's share some tips for matching mosaic gold necklace.
1. Long-necked wearers may choose wide or short mosaic gold necklace, to create rich aesthetic feeling from striking contrast;
2. Long-necked wearers with good facial form and skin condition are suitable for mosaic gold necklace in distinct color and "cool" style;
 3. Short-necked wearers may choose slender mosaic gold necklace or mosaic gold necklace with diamond pendant to show perfect effect.
 4. To match the dressing, mosaic gold necklace is perfect for showing good effect in combination with V-collar, round collar or well-fitting high collar.
Taboo: When wearing mosaic gold necklace, the boundary between collar and necklace should not be ambiguous or intersect.