In hot summer, many females caring about personal image like to wear a tender and mild pearl bracelet on their wrist, to set off their graceful, noble, demure and elegant temperament. Natural pearl bracelet does not only have beautiful appearance and mild luster, but also brings a lot of benefits for the females wearers, how do we keep from loving so amazing female stunner?
1) We all know that natural pearl powder has the function of clearing lipid peroxide in human blood vessel, so as to whiten the skin and slow down skin aging. Thus, females wearing natural pearl bracelet will naturally have their wrist skin taken good care, and maintain more moistened, brighter and elastic skin.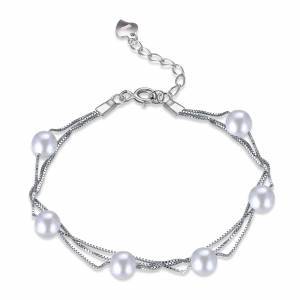 2) Natural pearl is a kind of organic color jewel enriched with higher aliphatic alcohol, which functions to speed up metabolism of human cells and enhance activity of the cells; for example, if your wrist skin is scratched by accident, wearing pearl bracelet on your wrist will facilitate the growth of skin collencytes at the traumatic part to fill the wound, to help skin regeneration, faster recovery of the wound on your wrist, and restore smooth and tender skin earlier.
3) Also, wearing pearl bracelet promotes human blood circulation. Because the wrist is the terminal of blood circulation, and return blood in human body is realized via cardiac pressure, if you wear a pearl bracelet on the wrist, with its continuous rubbing back and forth, it's effective to promote wrist blood circulation; this physical effect is also an important reason why people like wearing pearl bracelet.
4) Natural pearl is multicolored, wearing pearl bracelet in hot summer arouses refreshing and colorful feeling; wearing a beautiful and exquisite pearl bracelet on the wrist helps relaxing and easing your mood, and infuses you with full passion toward life!
Natural pearl is the most precious treasure endowed to human by the nature. Wearing pearl bracelet has many benefits to our health, so aren't you loving it and hating without it for even a moment? Nevertheless, due to we sweat in summer, we ought to take care of pearl bracelet after wearing it.